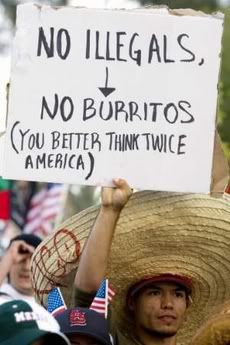 Well then, I've never been one to disregard the presage of the enlightened. As such, I've asked a few decidedly legal friends to provide recipes that may help assuage the pain of an illegal-less, and resultantly, overly fruited plain should America fail to think twice.


Hi there Emeril how are you?


Awwweee, pretty good jaknow... salways nice to meet a fan.


Well Emeril, Im not really a fan in fact, I find your show to be as pretentious and self-serving as your cuisine is blase.


You damn ingrate... you bes shutcher mouff before I Zataran yo ass.


Whoa boys and girls, I think Emeril is inebriated... but that doesn't mean he doesn't have a recipe for us.


You said it. Here's a lil sumin sumin that the folks should like for breakfast... remember y'alls, laissez le bon temps roulez! Vote Nagin!!!

Burrito por lo Desayuno

Prep Time: 20 minutes
Cook Time: 15 minutes
Serving Yield: 2

3 large eggs
2 tablespoons whole milk
1/2 teaspoon Baby Bam, recipe follows
1/8 teaspoon salt
1 teaspoon olive oil
1 teaspoon unsalted butter
1/2 pound crumbled breakfast sausage
1/4 cup chopped green bell pepper
1/4 cup grated Monterey Jack cheese
2 (8-inch) flour tortillas, gently warmed and kept covered until ready to use
1/2 cup Emeril's Original salsa, for serving
2 tablespoons sliced green onion tops, for garnish, optional
Break the eggs 1 at a time into a small mixing bowl and beat with a whisk or fork. Add the milk, Baby Bam, and salt, and whisk well to combine. Set aside.

Heat the olive oil and the butter in a medium, nonstick skillet, over medium-high heat. Add the sausage and cook, stirring constantly to break up into bite-size pieces. When the sausage is brown (no pink should be left), add the green bell peppers and cook, stirring, for 1 minute.

Add the eggs and cook, stirring constantly with a wooden spoon, until the eggs are just set, about 30 seconds. Sprinkle with the cheese, remove the skillet from the heat, and let rest for 20 to 30 seconds until the cheese melts.

Spoon half of the filling down the center of each tortilla. Roll up the tortilla, burrito-style and place seam side down on a plate to keep the burrito closed. Top with salsa and garnish with sliced green onions, if desired.

Baby Bam:
1/2 teaspoon celery salt
1 teaspoon dried thyme
1 teaspoon dried basil
1 teaspoon dried oregano
1 teaspoon ground black pepper
2 teaspoons garlic powder
2 teaspoons onion powder
2 tablespoons dried parsley
2 tablespoons salt
3 tablespoons paprika

Place all the ingredients in a small mixing bowl and stir well to combine, using a wooden spoon. Then store in an airtight container for up to 3 months.


YEEAAAAAAAAAAAAAAA!!!!!!!!!!!!!!!!!!!!!!!!!!!!!!!!!!!!!!!!!!!!!!!!!!!


Right on! Ohhhh... I know just who to ask for a contemporary take on classic southwestern cuisine... Yo Bobby! What's happenin' man?


Oh not much... just hangin out here at Bolo making some calls trying to find pepper suppliers not associated with the southern California produce industry.

Yeah, I heard that... any luck?
Nope, not yet but enough about the politics... I hear you needed recipe for a lunch burrito.

Yeppers whatchya got for me?


Oh, whaddaya say we go with a bit of a hybrid to hopes of encouraging a retention of culture as well as societal assimilation.


Bobby, that sounds like just what the doctor ordered... hit me.


Here ya go brother.

Burrito por lo Almuerzo:

Prep Time: 15 minutes
Cook Time: 3 minutes
Serving Yield: 1

1 (12-inch) flour tortilla
2 steamed, premium all-beef hot dogs
2 slices American cheese
1/3 cup chili
3 slices crispy bacon
2 tablespoons diced onions

On a flour tortilla, place all ingredients, in the order listed. Begin rolling-up tightly, folding top and bottom in and over the ingredients to form a sealed envelope.


WOW!!! Bob is the man and culturally aware to boot... impressive, huh kids?



SHO NUFF!!!!


Well I guess that leaves dinner... Hmmm, who to ask, who to ask... I know! How about everybody's all-American, Chef Tyler Florence?!?!?!


I hear my name?


Yeah Tyler, it's me, Dave. I'm looking for ways to preserve the glory that is burrito should all the illegals have to go away. This is because today I saw a little illegal boy say that no illegals will lead to no burritos and that's sad to me.


Oh, don't worry about that Dave. There's no way the burrito is going anywhere. That kid has spent too much time in the cabbage patch.


That's kinda what I was thinking but then I thought who would know better than him... his abuelo probably invented them or something. So, you got something along the lines of hearty ode to burrito for din din?


I'm your huckleberry and I appreciate the fact that you came to me for a dinner idea. Dinner is the cornerstone familial interaction. It's only fitting to pay tribute to the wonderful respect for family Latinos have by eating burritos for dinner. Here ya go...

Burrito por la Cena

Prep Time: 20 minutes
Cook Time: 5 minutes
Serving Yield: 8

Mojo Sauce:
4 garlic cloves
2 serrano chilies, seeds removed
1 large handful fresh cilantro leaves
Juice 2 limes
Juice 1 orange
1/2 cup extra-virgin olive oil
Kosher salt and freshly ground black pepper
8 large flour tortillas
1 (3 to 4 pound) whole roasted chicken, shredded
Yellow Rice, recipe follows
Spicy Black Beans, recipe follows
2 avocados chopped
1 cup grated queso blanco or Monterey jack cheese
Sour cream, for garnish
Cilantro leaves, for garnish
Lime wedges, for garnish
Make the Mojo Sauce: Put the garlic, chilies, cilantro, lime juice, orange juice, and olive oil into a blender and process until smooth. Taste and adjust seasoning with salt and pepper.

To make the burritos: Warm the tortillas for 30 seconds in a dry skillet or on the grill until pliable. Place some chicken down the center of a tortilla and top with rice and beans, avocado, grated cheese, and Mojo Sauce. Roll up the burrito and serve topped with a generous drizzle of sour cream; garnish with cilantro leaves and a squeeze of lime juice.

Yellow Rice:
2 cups long-grain rice
4 cups water
2 cloves garlic, smashed
1 teaspoon turmeric
1 teaspoon kosher salt
1 bay leaf

Put all the ingredients into a heavy bottomed pot, stir well, and bring to a boil over medium-high heat.

Reduce the heat to a simmer, cover, and cook over low heat until the rice has absorbed the water, about 15 to 20 minutes. Remove from the heat and let sit, covered, for 5 minutes. Discard the garlic and bay leaf, fluff with a fork, and serve.

Spicy Black Beans:
2 cups (about 1 pound) dried black beans, picked over and rinsed
3 tablespoons extra virgin olive oil
1 medium onion, chopped
1 jalapeno pepper, chopped
2 cloves garlic, chopped
1 bay leaf
Kosher salt and freshly ground black pepper
Quick soak the beans: Put beans in a pot and cover with water by 2 inches. Bring to a boil and cook for 2 minutes. Remove from heat, cover, and let soak for 1 hour. Drain the beans.

In the same pot, heat the olive oil. Add the onion, jalapeno pepper, garlic, and bay leaf and cook until the vegetables begin to soften, about 5 minutes. Add the beans and cover with water by about 1 inch. Bring to a boil, reduce the heat, cover, and simmer for 1 to 1 1/2 hours, or until the beans are tender. Remove the bay leaf and discard. Taste the beans and season them with salt and pepper.


Man... I'm absolutely salivating... I'm now really torn between wanting the folks to be able to work and provide for their families and having them all leave so we can take to enjoying these great legal recipes.

[Ding Dong Ding Dong DingDingDing Dong]


Hold on, just a sec kiddos... somebody is at the door...

[Creeeeeeeeeeeaaaaaaaaaaaaaaaakkk of a door hinge in need of oiling]



Hey mister we're with Girl Scout Troop 507, wanna buy some thin mints?


Well hey ladies, how are you this afternoon?



Oh we've been better, today we had to change our routes all up because all the Spanish people are still in the street from the other day.


Oh that's too bad... but girls I have to tell you it's not exactly accurate to refer to illegal immigrants and those protesting for the rights of people without regard for the laws of our nation as "Spanish".



Gee whillickers mister, really?


Really, it's much better to refer to that group as "Latinos"... if you are Lou Dobbs or Geraldo you seem to be able to refer to them as "Illegals" without any real repercussion but us normal people, we need to be wary and refer to them as the seemingly innocuous "Immigrants" for fear of having others believe us to be insensitive or ignorant.



Wow! Sure thing mister wanna buy some thin mints?


No... I think I'm gonna go buy a burrito at a family owned and operated or franchised restaurant before they become unavailable and I have to make one myself.



Hey mister at jamboree last month we made burritos for desert!!!


Really now!?!?! That is excellent and in perfect keeping with my "Burrito-For-Each-Meal-Contingency" I've developed today while being paid by your parent's tax dollars to speak with world class masters of cuisine... do you ladies remember how you made them?



Sure do mister, we got the recipe right here theyre really good and really fun!!!

Smorritos por los Desierto

Prep Time: 5 minutes
Cook Time: 5 minutes
Serving Yield: 4

4 large flour tortillas
1 cup milk chocolate chips
2 cups miniature marshmallows
Optional fillings (Mix and match these other S'morito filling ideas to find your favorite):
Pie filling (any flavor)
Butterscotch chips
Peanut butter chips
White chocolate chips
Caramel sauce
Hot fudge
Candied fruit
Heat a grill or build a fire.
Place 4 large pieces of aluminum foil on the counter or table. Place 1 flour tortilla on each piece of foil.

Scoop chocolate chips and marshmallows into the center of each tortilla. Roll each tortilla like a burrito, capturing all ingredients inside the tortilla. Completely cover the rolled S'morito with aluminum foil. Using long-handled tongs, carefully place each S'morito on the grill or on the campfire coals. Cook for 3 to 5 minutes, depending on the heat intensity of the fire, turning often to ensure even cooking. The S'moritos are done when all ingredients have melted together.

* Members of Girl Scout Troop 507, none of which present to be professional cooks, provided this recipe. Neither the Food Network Kitchens chefs nor Americas Test Kitchen chefs have tested this recipe and therefore, cannot make any representation as to the results.

** Stilted English-to-Spanish translations provided by FreeTranslation.com.